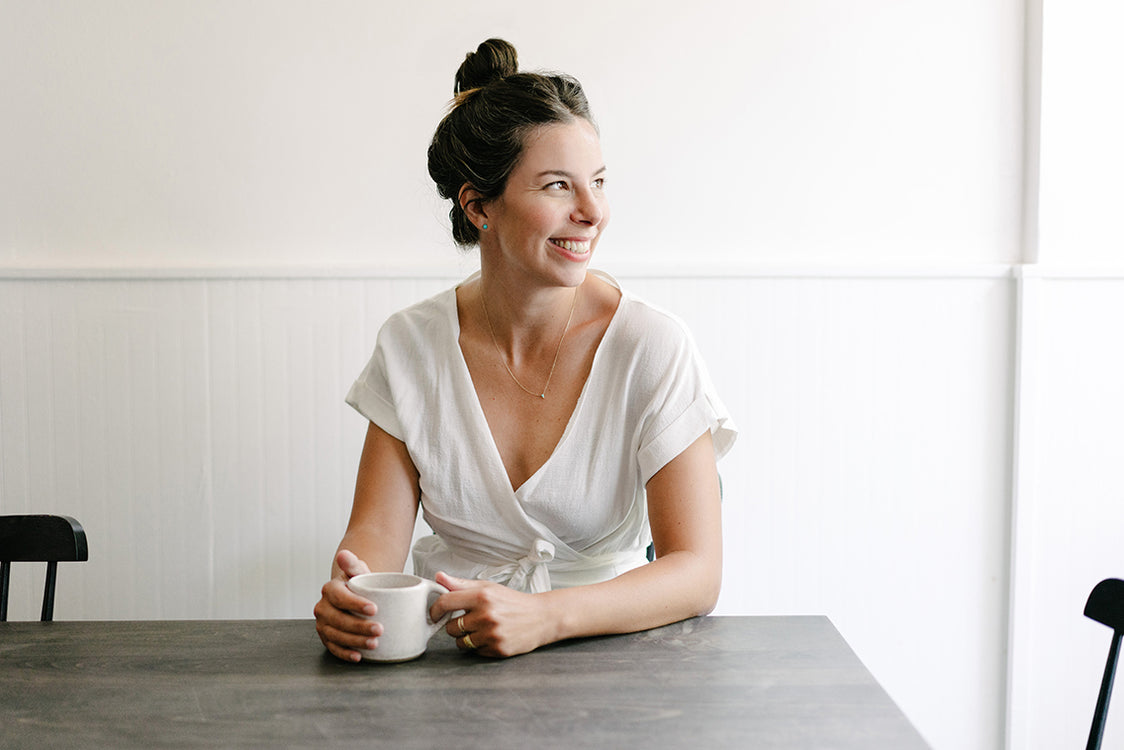 Jamie Erickson
The first thing you notice when walking into Poppy's Catering is the mind-blowing smell of freshly baked cookies and just brewed coffee. The second is the gorgeous clean décor and stunning in-house products. This would explain why there is a line down their picturesque black in Cobble Hill, Brooklyn every weekend to grab their delicious food and exclusive products. With years of restaurant and hospitality experience, Jamie Erickson started Poppy's Catering six years ago as a small catering business, and now has a beautiful storefront, and caters some of the best (and most well fed) events in the city. She's has an incredible creative vision, heads a team of insanely talented women and makes you feel warm and welcome in the midst of it all (our coffee cups never went empty all morning and warm baked cookies appeared the second we needed them). Read on below to learn about Jamie's journey, inspirations and what happens when you become a mom in the midst of growing your booming company… 
Can you tell us a little about how you got into the food and catering industry? 
I entered into the food industry by way of hostessing at restaurants.  While I did hostess at restaurants in NYC throughout high school, it wasn't until I was in college in Boulder, Colorado, that a restaurant actually influenced the trajectory of my career.  I was on the opening team for a restaurant called, The Kitchen.  It was my first experience with what "farm-to-table" eating and seasonal menus really were about.  Food and hospitality truly became a passion from my time there.
What motivated you to take the plunge and start your own business? Where did the idea for Poppy's come from? 
 When I moved back to NYC, I worked for a few different companies within the events world, then catering and finally as the catering manager at City Bakery just before I opened Poppy's.  At that time, I had built up a solid understanding of the industry as well as made some strong connections with clients. Once I got to a place where I felt like I wasn't learning and growing anymore, I knew it was time to make a change.  
 I kept in touch with my former boss and owner of The Kitchen, Kimbal Musk.  He was the one that really pushed me to start my own company and ultimately loaned me the money necessary to get it off the ground. 
 The name Poppy's is a tribute to my grandfather who showed his love by cooking and feeding.  He worked at the infamous B&H Dairy on 2nd Ave for 40 years.  I loved the idea of bringing it back to my roots and it was only kismet that our first ever employees also called their grandfather's Poppy.
White Knot Overalls
Your run this incredible company while being a mom, it's so impressive! There's currently a lot of conversation about how men don't really get asked about being a working father, but women get asked about being a working mom all the time – I'm curious, was there a change in how you run your business since having your son? Did you have examples of how to balance both, or did you just wing it? 
Thank you so much.  There has 100% been a difference in the way I work and how I run the company since having my son.  When I got pregnant, Poppy's had been in business for over two years.  I had done my fair share of hustling and working extremely long days.  But fortunately, we have an incredible team here and it was growing.  I knew at that time that letting go of a lot of the day to day tasks would happen.  And I go by the motto "if you want to grow, you have to let go."  Having Dylan was just the thing that pushed me to that point sooner rather than later.  My job has since become more macro than micro.  So I find that letting go of a lot of the day to day production and sales and focusing on larger picture, branding, marketing, management, growth strategies, financial planning, book-keeping, etc. has been a better role for me as a mom. 
For whatever reason, I believe women are different than men in the guilt we put on ourselves.  That guilt hasn't left me in that I feel sometimes like I'm not working hard enough or long enough hours and at the same time I'm not giving 100% of my undivided attention to my son when I'm with him.  I'm not sure men feel guilt in the same way.   
It is a balancing act, but I have also built a company in which we value family time and personal time.  In the food industry which is notorious for strenuous long hours, my staff all have a very well balanced work/time off and I believe that's important.  Especially in that we're a woman run business.  My executive chef just had a baby and is on maternity leave now so it will be the second high-level position in that we balance new motherhood with being a poppy's boss lady.
Navy Slate Coveralls
What advantages do you think being a woman can bring to a career in the food industry?
I had only worked for male owned/run food companies before starting Poppy's. It was all that I knew.  There is absolutely something different about the way we run Poppy's with all women.  Aesthetically I believe our food looks like it had the touch of a woman who created it.  There is a love and care that goes into all aspects of our company from the food to the sales and the customer service.  
I took a leadership quiz recently and found that I'm a boss that makes decisions based on my employees personal lives not just the business.  Sometimes women are looked down upon for bringing too much emotion into the workplace but for me finding a balance between the two has brought such a solid group of amazing, talented women and men that work together for Poppy's.  My executive team has been working together for almost six years now and while I didn't set out to own a women run business I think it is the absolute greatest gift we have.
Do you have any mentors, idols or role models you admire?
As I mentioned above, my first mentor and force that drove me to open Poppy's was Kimbal Musk.  He is now one of the leading voices in the Real Food movement and I will forever be grateful that taking a college job as a hostess at his restaurant would lead me to where I am today.
As for other role models that I admire, there's not one in particular.  In business, I'm very fortunate to be a part of two female entrepreneur groups- Hey Mama + Creative Collective.  Within those two groups I have met and learned from so many talented, smart, ambitious women who run their own businesses as well.  I get inspired to grow or learn from their mistakes and feel so fortunate to be involved with them. 
And personally, I always look to my family and friends as mentors/role models as many of us are navigating our way through these new bleary-eyed, challenging and oh-so-rewarding years as new parents.
The Poppy's Team in the Simone Jeans
What about style icons?
Luckily my parents raised my sister and I with pretty classic styles.  They taught us well and while we never veered to strong trends we were a family that knew how to add a little flair to a classic look and value well made clothes.  If I named some icons they would be Ali MacGraw, Jane Birken, Lauren Hutton + Carolyn Bessette-Kenedy.
These days I'm loving...
Food - BLT's
Clothes -  my new Loup overalls, duh!
Movies/TV -  Handmaid's Tale
Books - Shit, haven't read one of those in awhile 
Beauty - My new Tata + Harper face wash
"Me time" activity - The Class by Taryn Toomey