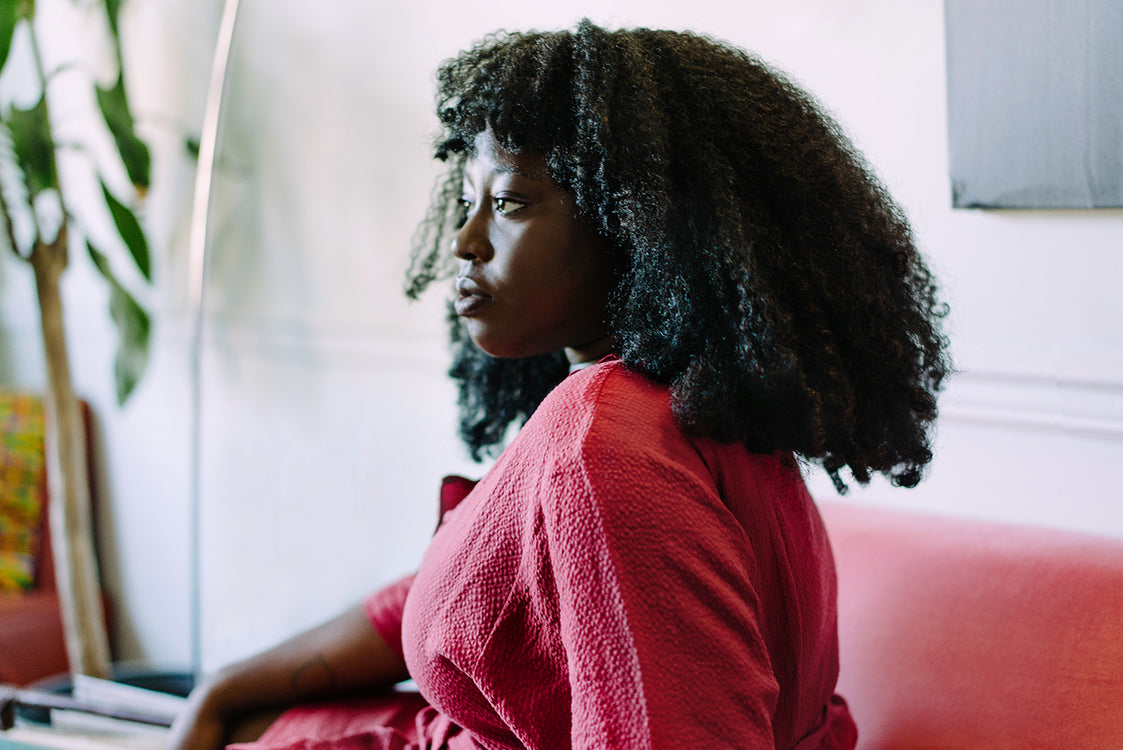 Zeba Blay
I've followed Zeba Blay's work for a while, reading her reviews and articles as the Senior Film and Culture critic for the Huffington Post, as well as getting a small glimpse into her life through her Twitter and Instagram, and I couldn't wait to meet her in person. Quite honestly, I was a little intimidated to meet someone whose work I admire, but my fear quickly melted away as she welcomed us to her home with open arms, a great sense of humor and a quick wit. Her personality not only flows through her writing, but also throughout her colorful apartment in New Jersey, which is full of incredible vintage finds (see pink couch below!), books and artwork. Read on to learn about her experience as an immigrant from Ghana, her extremely exciting upcoming work and what keeps her going every day…  
You were born in Ghana and immigrated to New Jersey, can you tell us a little about what is was like coming of age in a culture very different from where you were born?  What type of connection do you feel to Ghana now?
I think when you're an immigrant, no matter how early or late in life you immigrate to another country, there's always this feeling of in-betweeness. I've definitely felt that. Too African when I'm in America, too American when I'm in Ghana. Coming of age in America made it so that I have a very American sensibility, while still feel very connected to Ghanaian culture. It's hard being an immigrant, especially these days, but I'm very proud to be an immigrant, proud to be able to tap into so many facets of my identity when it comes to my relationships, to my career, to how I navigate this country (and this world) every day.  
You mentioned to me that movies helped you understand American culture, is that what sparked your love for film? Are there any movies in particular that made an impact?
I think I love movies so much because, as someone who has battled depression for much of my life, there have bee moments when movies have literally saved my life and my sanity. I grew up a pretty lonely, sad and anxious young kid -- movies and television were a way for me to navigate and explore the world in a way that felt safe and familiar but exciting and different at the same time. I think that, more than anything, is what sparked the love affair -- the ability to be transported to places and perspectives that I would otherwise never have gotten to experience. I started to really get into film when I was in my teens, during the heyday of torrenting -- movies like The Royal Tenenbaums and Amelie were coming out around that time and I latched onto them. I became a Paul Thomas Anderson stan (Magnolia is my favorite movie of all time) and I also really, really loved the Lord of the Rings series. As I got older, I also began to discover the work of black directors and women directors that changed my life -- movies like Killer of Sheep, Ganja & Hess, The Watermelon Woman. These are movies that made me think differently about the potential of the black experience on screen. 
What steps did you take to go from a film loving child to a professional writer, journalist, and critic?
Writing basically runs in my family (my sister is a fashion journalist and professor, my father was president of the Ghana Institute of Journalism, my mother was a news anchor and radio host). I always knew from a very young age that it was something I not only wanted to do but was going to do, come hell or high water. I've always loved movies, so once I knew that I could be paid to write about the movies I loved everything else sort of fell into place from there -- I applied for and got into the Indiewire Critic's Academy in 2012 which definitely gave me a boost in getting my name out there as a writer. The advice I give to other young women aspiring to write professionally is to 1) not think of themselves as aspiring but as professional writers already and 2) pitch, pitch, pitch.
You're currently writing your first book, congratulations! Can you give us any details about the subject and when we can read it?
Yes!! Thank you! The book is called Carefree Black Girls and it comes out in 2020 from St. Martin's Press. The book is essentially a meditation on society's simultaneous obsession with and hostility towards black women. We set trends, we lead political movements, we take on the mantle of being "strong" even when we don't want to be, and yet we're disrespected and denigrated on an astounding scale. I'm going to be writing about how black women -- everybody from Josephine Baker to Rihanna to  Angela Davis to Cardi B -- impacted pop culture as we know it, and impacted me. Basically, the book is taking a look at what it means to truly be carefree as a black women in America today, and all the things that complicate that desire.
What advantages do you think being a woman can bring to a career in writing and journalism?
There's this myth amongst some people in my line of work that in order to be a good film and culture critic, you need to be largely objective in how you approach talking about things. I disagree with this so hard! I think our personal identities and journeys are what make experiencing art so unique and so important. No two people have the same perspective. I say all this to say that being black, and being an immigrant, and being a woman has given me the advantage of seeing things that some of my peers will never see. It's allowed me to have a heightened awareness about the way identity intersects with art, and I think that while being a woman in any industry is hard af, being a woman writer is such a gift.
Do you have any mentors, idols or role models you admire?
I really admire Janet Mock, who has given me some much needed insight and career advice in the past, and whose career itself has been an inspiration to me over the years. I also admire writers like Robin Givhan, Emily Nussbaum, and Manohla Dargis. My older sister is one of the most fearless and interesting people I know.
What about style icons?
People whose style I admire: my friend Fariha Roisin, Sal Gbaja, Stephanie Afrifa, Maryam Nassir Zadeh, my mother and aunts in 1970s Ghana.
These days I'm loving…
Food
I've recently become obsessed with making this delicious
Coconut Apple Crisp recipe
by Carolina Santos-Neves --- it's sooo easy to make and makes me feel like I'm being lowkey healthy even though it's indulgent and delicious as hell!
Clothes
Real talk, the black Loup overalls have become my go-to uniform -- they're
so comfortable.
Right now I'm really enjoying clothes that make me look effortless but also extra as hell but also I'm able to move in - some of my faves at the moment include Mara Hoffman, Molly Goddard, and Batsheva.
Movies/TV
I recently saw the new Suspiria which I loved even though I will absolutely never watch it again ever. There are so many shows to keep up with right now but my go-to will always be Ancient Aliens.
Books
Right now I'm reading
The Battle of Versaille
s by Robin Givhan, and I just finished my lovely friend Anne T. Donahue's book
Nobody Cares
which genuinely made me laugh and cry, sometimes at the same time.
Beauty
I use Murad body and face products for skincare. Lately I've been really into really tacky blue or purple eyeshadow on my eyes and just a little base. I love unexpectedly extra details. As I get older I'm finding new ways to do the most without doing much at all.
"Me time" activity
In true Taurus fashion my favorite thing to do on my own is snuggle up on the couch with a blanket and a snack while watching a Ken Burns documentary. Invariably I will fall asleep before finishing the doc which is usually a smooth four hours long - these are easily the best naps!
Images by Julia Hembree, shot in Jersey City, New Jersey