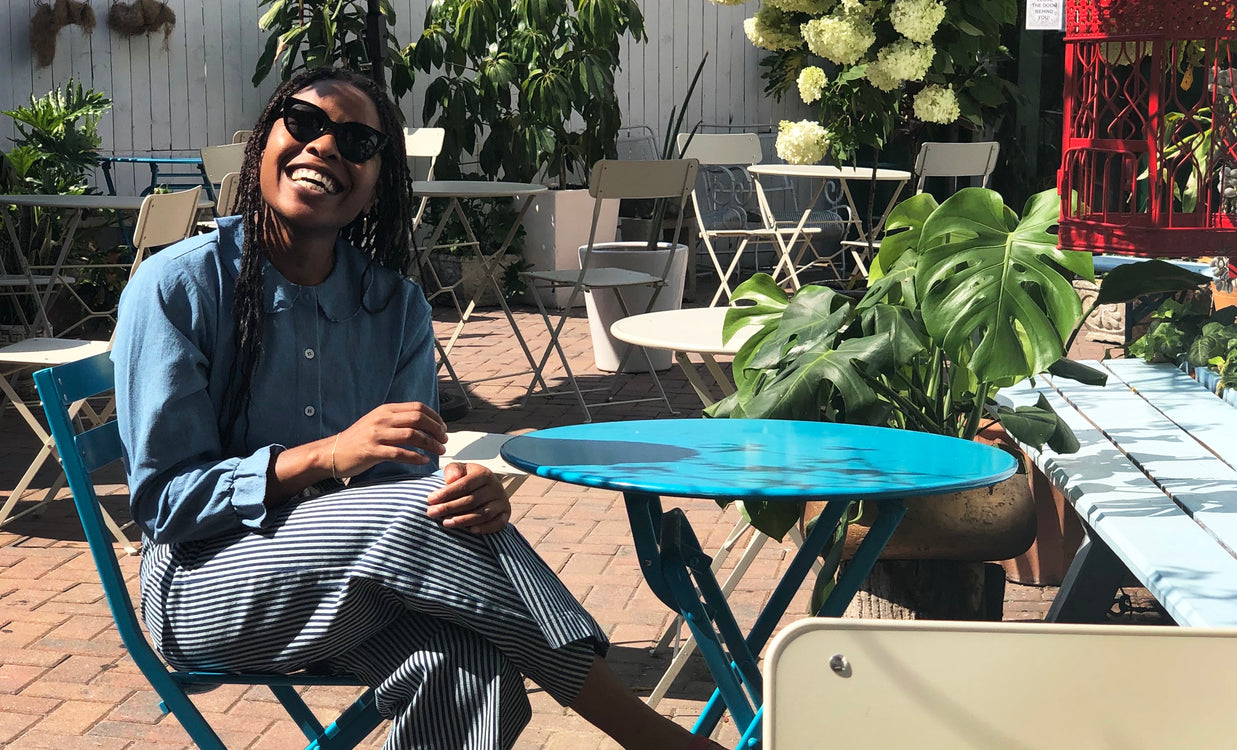 Sarah Nsikak
 As an obsessive quilt lover, I fell head over heels for Sarah Nsikak's handmade beauties at La Reunion as soon as I set eyes on them. Her feel for color is mesmerizing, as is the inherent storytelling within her work. They each feel like a snapshot of a certain time, place and emotion. In addition to her quilts, her handmade dressed embody this same spirit, each with a unique point of view. Read on to learn more about Sarah's journey and inspirations.  
Can you tell us about how you go into textiles, quilting and then ultimately fashion?
My grandmother was a seamstress in her Nigerian village and she was a very skilled sewist. My parents immigrated to Oklahoma City in the 80s for university, and a few years after starting a family, my grandmother came to America to live with us. I used to watch her work with Ankara, which is a traditional Nigeria printed textile, and feel like what she was doing with her machine was magic. She saw my interest and taught me to sew when I was 9 or 10. We used paper, needle and thread to start, and I eventually worked up to using her machine. I remember foraging my own closet for old garments to transform into new ones, and doing so very badly. I was obsessed with the empowering feeling I got from making my own clothing, even if I was mostly too embarrassed to let them see daylight.
Any first generation Nigerian american can attest to the fact that you aren't supposed to tell your parents that you want to study textiles or fashion or art. They worked so hard to get to this "land of opportunity", and the expectation is for you to become a doctor, lawyer, or engineer. I wasn't interested in becoming any of those things, but I always had an interest in Psychology. I sort of finessed my way into studying art by pursuing Art Therapy, which I got my Masters in. Thankfully that was aspirational enough for my mother who convinced herself that I was on my way to becoming a PhD certified Art Therapist. After my Master's program in 2014, I started a small business where I was making clothing out of textile waste and upcycling vintage garments. I was trying to preach this message of sustainability to people in Oklahoma who either didn't care or cared just enough to verbally affirm it and move on.The concepts I was trying to spread were fairly new there at that time, and Forever21 was still the most referenced store for clothing. After two years of struggling to have my little company and working full time at a counseling agency to support it, I realized that I didn't have to keep exasperating myself and doing the work of educator and maker at the same time. I was also asked a lot of questions about who I am as a black woman. Many assumptions were made about what I was doing because of my skin color. People tried to barter with me, people asked me to do their alterations, people asked me to give them things for free. It was confusing to me because I didn't have the arsenal of understanding that I have now, but I felt strongly that I needed to be somewhere else. I  followed that impulse to Brooklyn and have been here ever since.
I initially found your work with textiles and quilts, but then quickly realized you made some incredible clothing as well! Did you always want to have a clothing company, or is it more about melding all of your passions?
It's a bit of both! I had another fashion project, but was a bit disillusioned by the fashion industry for a few years. It took awhile for me to find what felt like the perfect way to re-enter the fashion world with integrity. 
Where did the inspiration for your company come from, and where do you get it now?
I'm very inspired by my family and by Nigeria - my mom loves to share polaroids of herself with me from the 60s/70s. We look so much alike but grew up in such different worlds. I'm inspired by the timelessness of her style and the way she has always carried herself with such strength. She takes pride in her vibrant sense of style and that's a trait I find growing more and more in myself. It's shown through my work, this pull towards frivolous use of color. My dad was the one that really encouraged me in my personal style when I was very young. Nigerian menswear is a big source of inspiration for me - my dad had a never ending collection of traditional Akwa Ibom outfits. This must be where I get my love of two-piece sets and it's definitely something to expect from La Réunion in the future. My grandmother was so beautiful and intentional in her style as well. She made the most intricate garments using a simple machine and her hands. My uncle Sampson has encouraged me in my sewing through the comparison he draws of me to my grandmother. He has always seen it as the inevitable path my life was going to take, well before I knew it would. In knowing so much about the craftsmanship and artistry that comes out of the tribe I'm from, I'm driven to know more about the entire continent through the lense of Africans - not the western point of view. There's so much more to learn and to share with others. I'm very thankful for the opportunity to do that through LaRéunion (which is named after the island off the coast of madagascar). The hope is that together, we will all start to build connections between what we've always known and what was inherently African all along, bring the recognition back to the source of so much of the art we enjoy today. 
I absolutely love the sustainability element of your work, and I'm sure it's not always easy to uphold. What motivated the decision to focus on this and what keeps you moving forward with it?
There is so much textile waste just sitting in these cutting rooms and at many of the factories. They throw it all away, which is devastating to me. Textile waste is one of the largest contributors to carbon emissions. It also negatively affects black and brown countries before anywhere else. I recently read about a 30ft mountain of textile waste rotting in beautiful Ghana. We would never allow this in America or any predominantly white countries - the countries of black and brown people are treated as dump sites for exorbitant American waste. I want to spread the awareness of this as much as I can because it's the consumption of cheaply made fast fashion that perpetuates these disparities. There is a lack of big picture thinking and understanding when it comes to buying clothing. I know my garments will not be accessible to everyone, but what is most important to me is that people are inspired to consider supporting their local designers and local thrift stores versus their local fast fashion shop. Not seeing the rotting mountain every day can't be the reason why there's a lack of awareness that it exists.
I also learned from my time working in the fashion industry that there is a world of existing materials that we could be utilizing. I collect scraps from cutting rooms, factories, thrift stores, and online vintage sellers. There's a local vintage shop near my apartment that I pop into every month or so and leave a bike basket full of remnants. Chloe recently took a trip to Maine, and she sourced at some antique shops up there. There are some very special textiles with meticulous hand work full of vibrancy and texture. I gravitate to textiles like these and feel like they really honor the message of supporting artisans and keeping handmade work alive in a time that's all about instant gratification. 
How has the shutdown effected your business and how have you adapted in the last few months? Have any new ideas developed for you during this time?
Honestly, I've had some real breakthrough moments due to the time spent in isolation. I don't fully know how to take time off or not think about what I could be doing better or differently in my work. That's not the most healthy thing about me, but I was able to use this time away from a 9-5 in corporate fashion to reimagine what a work day looks like. I felt around in my own interests and what I know about my family history, things I  don't know because of erasure due to colonialism, things I've wanted to explore, and the lack of representation I've seen in the art/fashion space I'm in now.  Ideas for what I'm doing now came out of that time, and I have more to share when the timing is right for them.
Do you have a long-term plan for La Reunion or any goals you've set for the future?
Yes, I'm planning on growing an art practice and making wearable art pieces for the indefinite future :)
These days I'm loving...
Food
Pickled things! So good, easy to do, and a great way to reduce food waste.
 Clothes
I love my new clothes from Loup! I also love a new dress I got from Little Tienda, a lovely label based in Australia. Other than that, I've accumulated some vintage staples and those are what I wear most days.
Movies/TV
I have a subscription to Criterion and enjoy their film curation so much. One of my more recently referenced films is Agnes Vardas short documentary called Black Panthers. It's wonderful! Also, I'm very inspired by all things Micheala Coel does so naturally I've been loving her HBO show called I May Destory you.
Books
I have been so behind on reading this summer, but my most recent read was Just Mercy by Brian Stevenson. Such an important look into our crooked criminal justice system. Also, Brian is a modern day hero. It's hard to believe he's real - I  highly recommend reading the book and you'll see what I mean.
 Beauty
I'm pretty inept and slightly disinterested when it comes to beauty products but there are 3 things I love right now. 1 is this body oil I've been using by Maison Louis Marie No.4, my boyfriend accidently got me the body oil instead of the perfume oil. Best mistake ever - it's moisturizing and smells like heaven. 2. NOTO multi stick the color ONO ONO. This is the only makeup product I use. Love an all in one, and it makes my lips tingle which is wonderful. And last is Lesse face wash. My face feels so soft and glowy after I use it!
Follows
Most recent is @xodvf who is infinitely wise and beautiful with all kinds of wellness tips that I never knew I needed.
"Me time" activity
Probably biking at the moment!
Images shot in the Brooklyn, NY