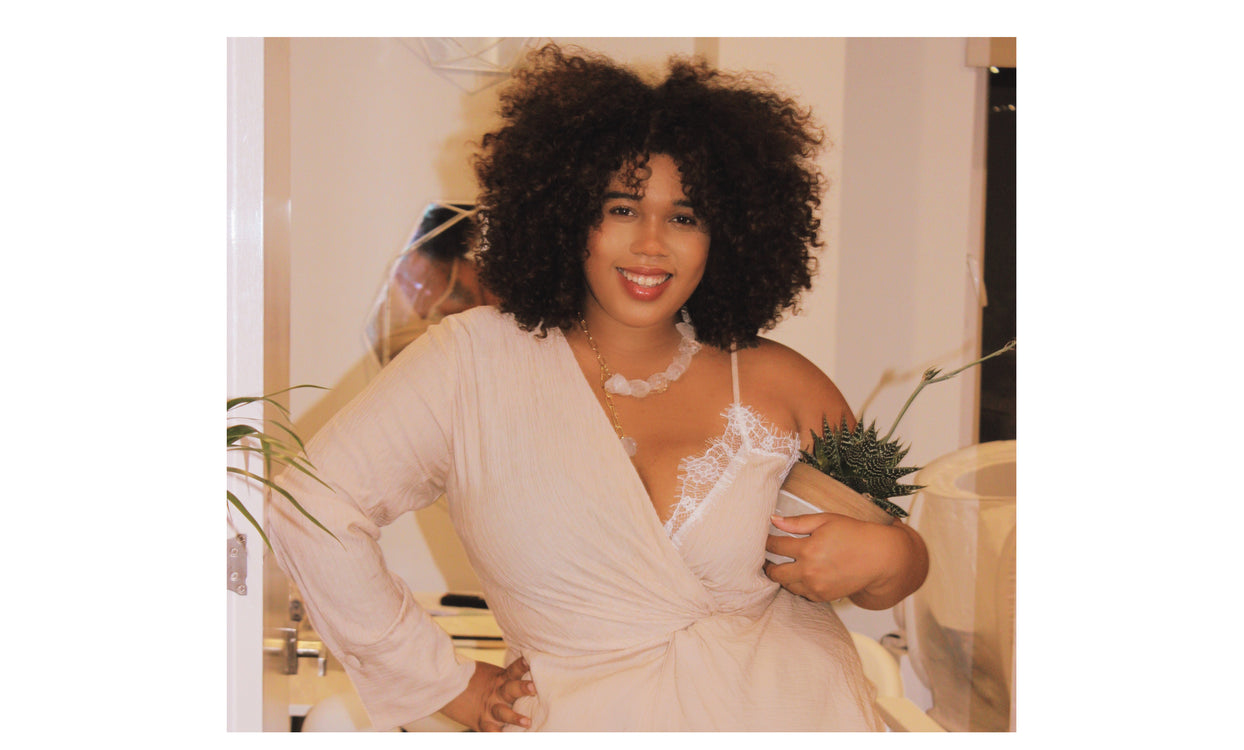 Sydney Ziems
One glimpse at Sydney Ziems' jewelry collection Serendipitous Project transports you to faraway places and bygone times – exactly what we all need right now. I stumbled upon this brand and got lost in Sydney's angelic images and colorful designs, mentally pairing her drop earring with my jumpsuits and jeans. I suddenly felt as though I should be wearing oversized shell necklaces and glamorous long earrings, and maybe be laying on a deserted beach instead of my couch. Read on to find out more about how Sydney started her company, her inspirations and why she focuses on sustainable, one of a kind, handmade pieces.
Can you tell us a little about your journey to creating Serendipitous Project?
Sure! It was a combination of things. Professionally, I was  not being fulfilled and I kept finding myself in toxic work environments. So, I knew I needed to find something that worked for me and that was being my own boss. Secondly, I started having an affinity for accessories because I was having a hard time finding clothes that fit me right. I really appreciated the fact that you can update your wardrobe with accessories alone. It's a lot less stressful than having to go clothes shopping especially as a curvy woman. I decided to channel my itch for design and affinity for jewelry into Serendipitous Project and I haven't looked back yet!
I love the sustainability element of your brand; can you tell us how you implement that and how you do your material sourcing?
Thank you! I try to implement sustainability throughout every process of production. First, I reuse any packaging material I have acquired and If I don't have any at the time packaging materials from suppliers that use recycled materials. Secondly, the products we create are eco-friendly.
Every item from our collection is made-to-order so we can reduce waste. The current fashion cycle leads to so much waste and we want to drive the narrative of being more intentional when shopping. We want to bring back the value of buying something that will last for a long time and that is timeless. Clothing is so cheap and disposable nowadays people are throwing their closet away each new season which creates tons of waste. I'm really pleased to say that we don't rely on any factories to make our products. I do it all on my own for now! Also, I have had the pleasure of researching and fortifying relationships with small scale suppliers in the United States. Which has created this circular small business ecosystem that I think it's so important to prioritize especially right now.
What motivated the desire to create a brand that focuses on affordability?
A big lure of fast fashion is how cheap it is. I want sustainability to feel accessible for everyone. I hope by keeping a fair price point and educating consumers about why ethical and sustainable shopping is necessary for the future of our world and the people who inhabit it, they will take that with them in all aspects of their life.  I want everyone to be able to connect with my brand and I know price is a big way to bridge the gap. 
I first discovered your company by stumbling upon your gorgeous images – they have such an ethereal dreamlike quality to them. Can you tell us where your inspiration comes from?
I think nothing is more ethereal than nature itself. I am always trying to have different elements present in my imagery whether it's trees, flowers, or the ocean. Nature is such an integral theme of my designs. I am also heavily inspired by classical art. One definitive painting I always look to for inspiration is John Everett Millais' Ophelia. 
Your jewelry is extremely unique and feels like each piece has a personal touch. What inspires your distinctive pieces and what is your design process like?
A lot of my inspiration comes from the materials itself and art history. Especially working with natural materials. You get these organic shapes that are modern looking. It reminds me of Joan Miró or Picasso. A lot of my seashell jewelry is inspired by Boticelli's  Venus. I'm usually designing the pieces with her in mind. When I'm working with pearls I always goes back to the "Rococo" aesthetic and designing for a modern day Marie Antoinette. Those are just some explicit examples of how art and materials play such a big part in my work. As far as the process goes once inspiration strikes I make sure to draw it out right away so I don't forget.  Then it's just a matter of sourcing the materials and making it in my space!
I see you're developing a Quarantine Zine! Can you tell us how this idea developed and what your goals are with this?
Yeah! The quarantine zine developed as a way for me to get to know my online community better. I came up with the idea when New York was at its peak and I know a lot of displaced creators who didn't know what to do. I just thought it would be nice there to be a memento for people to look back at and have a collection of thoughts, feelings, and images of such a unique time in history. So, I  collected a bunch of submissions from our followers and I am excited to be publishing it soon! It will be available for sale on our site for a modest price! 100% of the proceeds will be going to the CDC Foundation. 
      These days I'm loving...
Food
Thai!
 Clothes
Voluminous dresses
 Movies/TV
The Nanny
 Books
Stamped from the Beginning by Ibram X Kendi
 Beauty
Mario Badescu forever
 "Me time" activity
Racquetball  
Follow Sydney @serendipitousproject @sydneyziems
Images by Sydney Ziems, shot in the Ridgewood, NY